The increase in the world's population, the evolution of uses and the rise of renewable energies are leading to growing needs for electricity transmission and infrastructure interconnection, that makes use of high and very high voltage lines. Epsilon Composite's innovative technologies improve the efficiency and safety of these electrical networks by replacing the metal cores of high voltage cables with a composite core made in pultrusion.


The cables that equip these "energy highways" are traditionally made from a structural steel core around which an aluminium conductor is wound (this solution is known as "ACSR", for Aluminium Conductor Steel Reinforced). These metallic solutions and their variants present many intrinsic problems: the passage of the current causes the cables to overheat, expand and sag under their own weight. Consequences includes: limitation of the current that can be carried by the line, significant electrical losses and safety risks.
The use of a light & durable composite core manufactured in pultrusion by Epsilon Composite allows to solve those issues and therefore improve drastically the performance, efficiency and reliability of overhead transmission and distribuion lines
More than 2500 km installed around the world


In the past decade, Epsilon Composite and its subsidiary Epsilon Composite Cable succesfully participated in many overhead lines projects from 90kV to 500kV, adding up to more than 2500km installed around the world.
Thanks to a worldwide network of partners and a significant track record, the HVCRC (High Voltage Composite Reinforced Conductors) technology is a proven solution to increase line ampacity (up to +100%), reduce line losses and sag, and keep infrastructure cost down.




Epsilon is 1 of 2 industrials in the world qualified according to the ASTM B987 standard, the only existing standard for High Voltage composite conductor cores.
ASTM & installation certificates available on request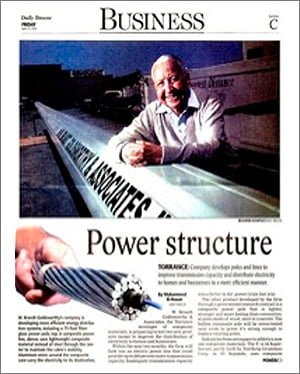 History of the HVCRC technology
W. Brandt Goldsworthy, nicknamed "the father of composites" and one of the inventors of the pultrusion process, could see as early as the 90's the potential for improving overhead lines thanks to pultrusion.
He had the idea to replace the traditional steel core in High Voltage cables with a composite core, and in 1998, his team laid out the foundation for the first generation of composite cables.
Based on his work, Epsilon Composite leveraged its pultrusion know-how and its 20 years of experience in underwater oil & gas composite cables to develop and manufacture the HVCRC technology with its partner Mercury Cable, supplying to transmission and distributions operators a reliable and durable solution to upgrade overhead lines over the world.
Photo credits: Mercury Cable International, EDF