Since the end of the 2000s, Epsilon Composite has considered that carbon pultrusion would be a decisive factor for the competitiveness and development of wind energy. Through a major R&D effort, Epsilon Composite has developed, patented and qualified an innovative solution to strengthen wind turbine blades (sparcaps) through carbon pultrusion, something that has revolutionised this industry.


Wind provides inexhaustible energy, which can be transformed into electricity using simple, safe and controlled technologies. The main drawback of this energy source is its intermittency, which greatly limits its use in the absence of efficient electricity storage solutions. Wind energy thus represents an interesting additional energy source in combination with other energy sources.
A dynamic global industrial sector has structured itself to meet the growing need for decarbonised renewable energies. The sector has long been heavily subsidised, but is under very strong pressure from public authorities to improve its competitiveness, by offering the lowest possible cost per kWh.
In this context, manufacturers are seeking to improve the efficiency of their wind turbines and reduce their manufacturing and maintenance costs thanks to innovative technologies.
Offshore wind power is also a major development axis for the sector, as the winds are stronger and more regular, which makes it possible to obtain better yields… provided that the company is able to meet the major technical challenges associated with offshore operations!
The decisive contribution of carbon pultrusion
Wind turbine blades have long been manufactured with low-cost (and low-performance) materials such as fibreglass and polyester or vinylester resins, which greatly limited their performance and size, and therefore the efficiency of wind turbines. This meant that the main manufacturers naturally turned to carbon fibre, at first with inefficient implementation processes that did not allow them to take advantage of the exceptional properties of this material.
As part of its R&D activities, Epsilon Composite was the first to conduct a comprehensive R&D programme from 2008 to 2016 to develop a technology to strengthen wind turbine blades using high-performance mechanical pultruded profiles. Epsilon Composite has filed a global patent family for the manufacture of wind turbine sparcaps from carbon pultruded profiles.
The validity of these patents has been confirmed by official authorities in many countries, including Europe and Japan. Extension is in progress in other parts of the world, including North America.


This revolutionary technology has greatly contributed to increase the length of wind turbine blades, which has increased fivefold (from about 23m initially to more than 100m today). It also provides wind turbine manufacturers with a highly efficient industrial manufacturing process with optimised costs.
Several of the world's leading wind turbine manufacturers have already adopted this technology in their blades, giving them a clear competitive advantage.
Learn more about licensing options on this patented technology on the IPwe platform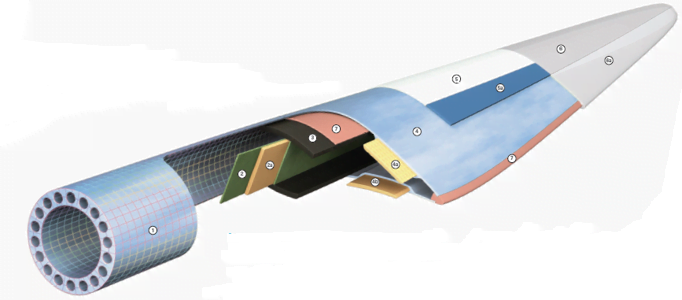 Epsilon Composite has also contributed to the development of several innovative vertical wind turbine concepts, such as the Vertiwind Project:
Case Study Vertiwind – Vertical offshore wind turbines
Carboglulam case study – Pultruded sparcaps – Pultruded sparcaps
Large series production
With a unique expertise in carbon pultrusion, as well as proven and qualified innovative solutions, Epsilon Composite has an installed production capacity of 10,000 km/year for the energy markets.