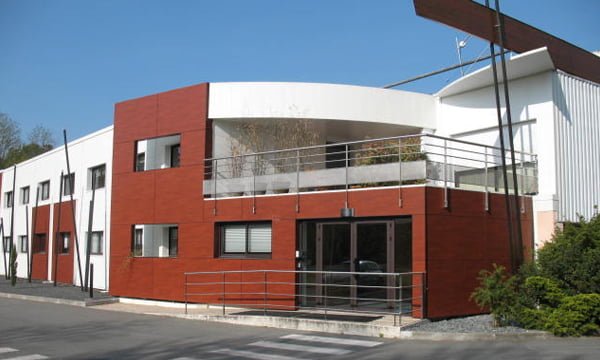 Epsilon Composite is pleased to welcome you to its premises, which are located in Gaillan Médoc, in the southwest of France.
Our address: 5 route de Hourtin, Gaillan Médoc, France.

65 kms from Bordeaux Mérignac airport (see itinerary on the map).
83 Kms from Bordeaux Saint-Jean station (see itinerary on the map).
Where can I stay on-site?
We are happy to welcome visitors to our prestigious lodge, located on the shores of Lake Hourtin, 1 hour from the airport and 15 minutes from the company (click here for booking ).
The address of the Lodge is: 2 rue de la Corvette, Hourtin – France See on the map


We have created this place in order to provide our visitors with pleasant accommodation, so they can enjoy optimal working conditions in supremely calm surroundings.
The ideal arrangement, is to arrive the day before to enjoy the cottage and its surroundings, which is located in the middle of a protected forest park, 5 minutes from the ocean and the largest French lake.
You can share a cosy dinner with local wines in the dining room, or enjoy the various nearby restaurants.
You will find what you need in the kitchen to prepare a breakfast at your leisure.
The peaceful setting of the meeting room will allow you to work together in perfect peace and quite, or at the factory if required.
The terraces and the interior lounge ensure you can take a pleasant break when you wish.

Would you like to meet with us outside of France?
Thanks to our global presence, we can setup a meeting near your own base of operations :
Organise a meeting with Epsilon Japan (based in Tokyo, covers Asia + Oceania)
Organise a meeting with Epsilon Central Europe (based in Vienna)
Organise a meeting with Epsilon Americas (based in Guadalajara)
Organise a meeting with Epsilon Italy (based in Milan)

For further information…
You can contact us by phone on: +33 556 734 774, or by using the contact form.