Epsilon Composite is a world leader in the design and manufacture of carbon fibre-based composite material parts.
The company is based in Gaillan en Médoc in southwestern France, where it employs 230 people.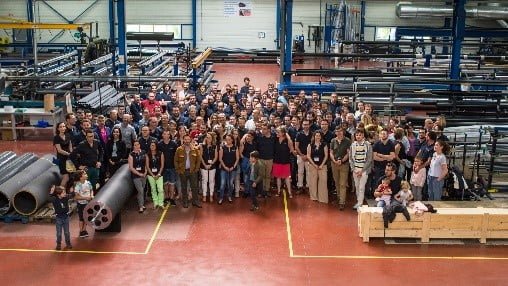 We offer tailor-made solutions for the most demanding applications thanks to an exclusive know-how based on 30 years of experience in industrial processes such as pultrusion, filament winding and various technologies for processing composite materials.


From ultra-deep water oil exploitation to aircraft structural parts, from printing machines to architectural works, we provide our customers around the world with performance improvement in the most hostile environments, thanks to innovative solutions and proven technologies.
Our activity is based on a worldwide commercial presence (90% export) and targets 4 strategic areas of activity: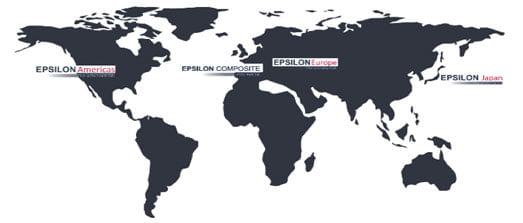 Epsilon Industries : pultruded carbon profiles and finished products for industrial and civil engineering applications.
Epsilon Rollers : technical rollers and machine parts for conversion industries, supplied to machine manufacturers and end users.
The dates that have marked the history of Epsilon!
1987 > 1st orders for the energy sector, for the French energy company EDF and the Italian oil group ENI
1990 >TV & Cinema Tripod Tubes
1992 > 1st success in aeronautics: military aircraft structures for the Swedish manufacturer Saab
1993 > 1st tubes for technical rollers for our Italian partner Cometec: the 1st Epsilon Rollers seeds!
1994 > 1st success of Carbolam® technology in civil engineering
1998 > Development of the first composite armors for oil risers with TechnipFMC
2001 > First finished products: giant telescope rods
2004 > Creation of Epsilon Rollers and intensification of our efforts around technical rollers
2004 > Filing of the K1 patent, which makes it possible to manufacture ultra-stiff and light rollers by combining pultrusion and filament winding
2005 > Pull Winding patent, which allows the manufacture of thin tubes with exceptional mechanical properties in pultrusion.
2007 > Launch of the Wind program, which will lead to a patent on the manufacturing method of giant blades reinforced with pultruded longitudinal members.
2007 > Creation of Epsilon Japan in Tokyo. Japan was then Epsilon Composite's main market.
2008 > Umbilicals for the Chinook Cascade oil project with the Norwegian oil group Aker.
2009 > Supply of Carbolam® flat laminates for the Westgate Bridge construction site in Melbourne (which was the largest project in the history of carbon composite materials).
2010 > Creation of Epsilon Aerospace and intensification of our R&D efforts in the aeronautics sector…
2012 > Manufacture of the giant poles and Carbolam® reinforcements for the MATAF footbridge in Saudi Arabia, which becomes the largest project in the history of carbon composites.
2012 > 1st High Voltage cables with carbon core installed by RTE
2014 > Launch of the Flying Whales heavy lift airship program, where Epsilon is one of the 5 main partners, and is responsible for the design and manufacture of the structural components.
2015 > Delivery of Carbolam® reinforcements for the roof of the Steve Jobs Theatre (the world's largest monolithic composite part)
2016 > Complete range of pneumatic and hydraulic flexographic adapters for printing.
2018 > Completion of a major composite struts program for the Airbus A350 as a Tier 1 supplier.
2018 > Launch of our first carbon doctor blade chamber (giant inkwells for printing machines).
20xx > The adventure continues with many projects that we often can't talk about yet!