Manufacture, cutting, laminating and processing of paper as well as plastic and multilayer films used to ensure the food safety of edible foodstuffs, the protection of agricultural crops and goods during their transport or the manufacture of products and packaging.


The quality of your film depends on the guide rollers used
The extrusion process for the manufacture of plastic films is the most common process used for the production of large quantities of thin films, which are sometimes multi-material. Guide rollers play an important role very early in the production chain and have a direct impact on the quality of the final product. As soon as they leave the extruders, the still hot film comes into contact with the guide rollers of the calibration cage (thickness calibration). A little further on in the process, the film is also flattened by guide rollers, before the cutting and winding units finish the product before the guide rollers once again take over.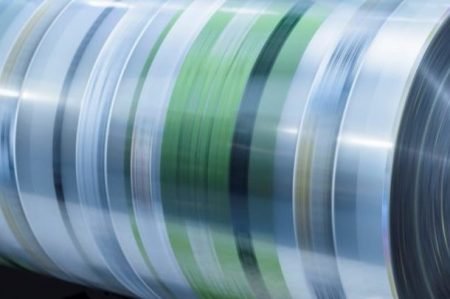 Ultra-light and perfectly balanced rollers
The rollers of the calibration cage or film flattening frame are designed to guide the film during production without damaging its quality, so they must neither slow down the plastic bubble nor pollute the plastic, which can be used in food applications in particular. The very low inertia and surface quality of the Epsilon guide rollers allows for perfect and very high speed guidance of the plastic film. From our pultrusion and pullwinding lines, the Epsilon guide rollers increase productivity (film width and production speed), while still maintaining the quality at a very competitive rate.

Plastic films & Environment
Plastic films provide important services in our daily lives, such as making the packaging that protects our goods during transport and storage, ensuring the freshness of our food, or making many products such as shoes or bags. Plastic film is also very effective way to manufacture goods in terms of energy and water consumption, compared with other alternatives such as paper or cotton.
Poor plastic waste management in some countries around the world leads to harmful and unacceptable pollution of the natural environment. This obviously does not, however, justify condemning the entire sector, which includes responsible and careful actors.
Epsilon Composite actively encourages public and private initiatives to reduce this type of pollution. The company is committed to a process of permanently reducing its environmental footprint and waste. It thus contributes to the development of innovative biosourced materials and efficient and environmentally friendly recycling processes.