Epsilon Composite designs and manufactures anilox rollers with a carbon fiber composite core for flexographic printing machines machines.
Also called a raster cylinder, this roller is at the heart of the flexographic printing process.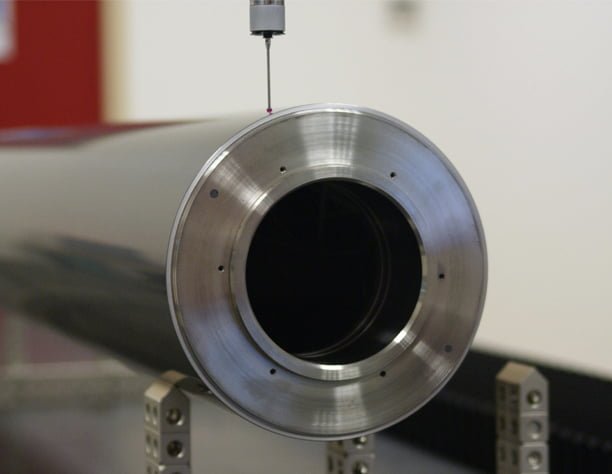 Charged with supplying a measured quantity of ink to the printing plate, Anilox must be precise in terms of volume, screen dot and linearity. However, it is not just that, its dynamic stability and its ability to absorb vibrations/reduce bouncing is now a major challenge for productivity and printing quality.
Epsilon designs and manufactures carbon anilox cylinders and anilox carbon sleeves with hydraulic clamping.
Epsilon carbon Anilox benefit from patented "K1" technology to achieve a stiffness adapted to your printing challenges:
Free attenuation/suppression of bouncing
Significant reduction in wear on the blades and ceramic coating of Anilox
Significant reduction in Anilox weight – ease of handling – compared to steel
The specific design by Epsilon guarantees performance and robustness, and the carbon tube is protected against most daily aggressions (shocks, cleaning agents, etc.). The engraved ceramic coating can be renewed several times during the product's life.
CARRIER SHAFT
Ø defined by the customer in the case of an Anilox sleeve
/Hydraulic clamping

OPERATING TEMPERATURE
Up to 60°C
DIMENSIONS
STORK: up to 1040mm
Printing width: up to 2800mm. Other dimensions on request

MAINTENANCE
Resistant to conventional solvents used in flexo printing
Recommended that isopropyl alcohol is used for cleaning
CONDUCTIVITY
Complies with the provisions of ATEX 95
STORAGE/ TRANSPORT
Recommended storage in vertical position
Protect Anilox from shocks
Transport Anilox in the box and on original supports