Epsilon Composite's carbon fiber doctor blade chambers are a superior alternative to traditional solutions (aluminium, prepreg composites or RTM).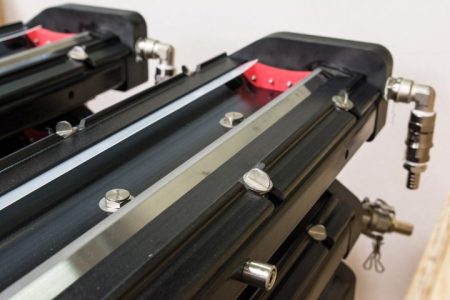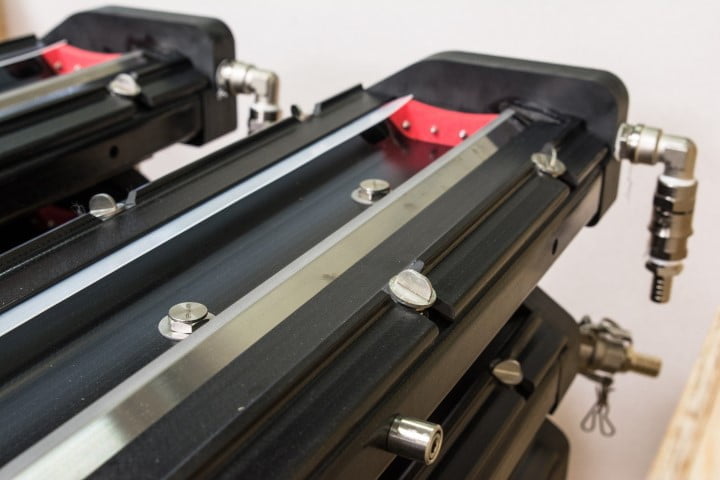 Faster, lighter, stiffer
Demonstrating a high level of engineering capabilities and expertise in composite manufacturing, EPSILON COMPOSITE has developed a complete range of doctor blade chambers, with applications in printing, non-woven textiles and films.
Carbon doctor blade chamber for Flexo machines
The aluminium doctor blade chamber often appears to be a puzzle for the flexo printer:
Very limited mechanical performance for large printing widths
Difficult handling due to the heavy weight for wide printing width machines
Corrosion caused by inks/cleaning agents
Ink leaks and long cleaning times
The Epsilon carbon doctor blade chamber solution meets all the needs and challenges of flexo printing
Mechanical performance
The main carbon profile, the heart of the system, is obtained by pultrusion of carbon fibers.
Pultrusion is the only process that combines high mechanical performance, dimensional and geometric stability, and productivity.
The high level of stiffness of the carbon profiles significantly contributes to the limitation of bouncing.

Handling
Epsilon doctor blade chambers are significantly lighter than their aluminium equivalent (-50% on average).
Handling can be done safely and requires less physical effort, and fewer personnel and technical means.

Corrosion
Unlike aluminium, Epsilon carbon elements are perfectly resistant to corrosion brought about by inks and chemicals commonly used in flexography.
The use of high quality epoxy resins ensures the protection of the functional surfaces of the doctor blade chamber. No additional surface coating is required.
All other components (stainless steel, polymers) are corrosion resistant.
Waterproofing
Numerous machine tests have made it possible to develop the most effective solutions and components in terms of waterproofing.
The Epsilon doctor blade chamber helps to limit material losses and long cleaning times for the doctor blade chamber (thanks to its specific carbon surface) and the surrounding structure (machine frame).
ANILOX
Ø defined by the customer
OPERATING TEMPERATURE
Up to 60°C
DIMENSIONS
Length up to 3650mm
Other dimensions on request
MAINTENANCE
Resistant to conventional solvents used in flexo printing
Recommended that isopropyl alcohol is used for cleaning
CONDUCTIVITY
Complies with the provisions of ATEX 95
STORAGE/TRANSPORT
Recommended storage in horizontal position, supported at each end
Protect the doctor blade chambers from impacts
Transport the doctor blade chambers in the box and on the original supports