Every year, Epsilon Composite delivers more than 30,000 technical carbon rollers to its customers worldwide, which are ultra-light and ultra-stiff, thereby increasing machine productivity and production quality.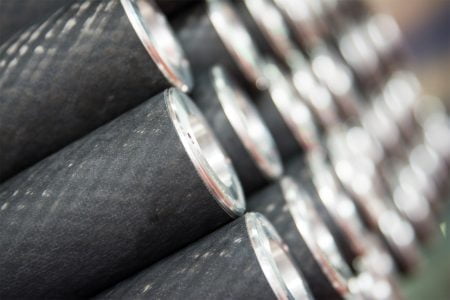 In addition to the specific rollers in the flexo range (adapters, shafts and anilox), Epsilon Composite offers a complete range of standard or custom-made CFRP rollers for all your applications:
Printing:

Complete flexo unit (pneumatic and hydraulic adapters, shafts, anilox, doctor blade chambers)
Ink rollers and dampening rollers (offset)
Guide rollers…

Films: manufacture and cutting of plastic films, application of coatings and processing into bags (guide rollers…)
Textile fabrics: Rollers for non-woven and technical fabrics production lines
Electronics: manufacture of printed circuits (PCBs) and flat screens

Conveyor rollers
Guide rollers…
Technical composite rollers: a superior alternative to traditional solutions
Lighter and stiffer than traditional metal solutions, our rollers will allow better productivity of your machines: they will be able to operate at higher speed and/or be wider. Thanks to a stiffness up to 2 times higher than steel, carbon rollers can run at high speed without risk of vibration and with less deformation, thus maintaining an optimal production quality.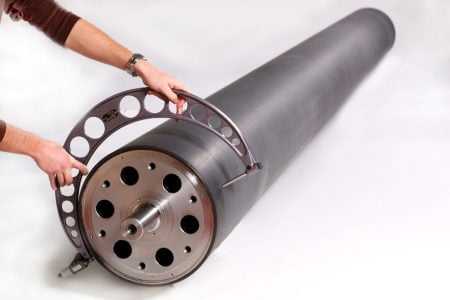 Key features of our technical composite rollers:
| | |
| --- | --- |
| Diameter | Up to Ø700 |
| Length | Up to 12m |
| Stiffness | Up to 400 GPa |
| Surge | Up to 5 µm |
| Edges | Metallic, plastic, composite, etc. |
| Machining of rollers | Roughness: option to choose the surface finish |
| | Cylindrical, concave, convex machining, etc. |
| | Single, double grooves, etc. |
| Surface coating | Raw pultrusion |
| | Elastomer: PU, EPDM, NBR, etc. |
| | Composite: overlay, fiberglass, gelcoat, etc. |
| | Metallic: chromium, tungsten carbide, etc. |
| Operating temperature: | Up to 80°C standard and higher than that on request |
| Conductivity | Insulating, antistatic or conductive surface in accordance with ATEX 95 |
| Chemical resistance | On request: option to offer rollers capable of operating in various environments (basic, acidic, etc.) |