Durable high performance carbon fiber adapters for flexo printing machines
Also known as an intermediate sleeve, intermediate cylinder or interleaf cylinder, the adapter plays a major role in print quality and productivity control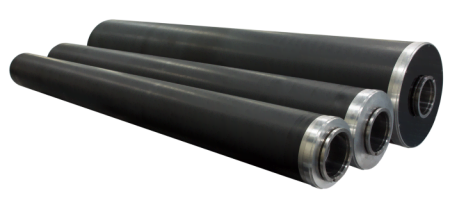 Carbon fiber flexo adapters: a proven design
The result of more than 15 years of research, development and technological expertise, the Epsilon "bridge" design, combined with a unique patented process for the production of carbon tubes, makes it possible to achieve unparalleled mechanical characteristics and dynamic stability.
Print tests carried out using adapters of different stiffnesses demonstrate the undeniable influence of stiffness on print quality and productivity.
Only the stiffest adapters (axially and transversely) can meet the requirements of printers:
Free attenuation/suppression of bouncing
Reduction of machine downtime
Reduction of pressure setting times
Reduction of adjustment times (adhesives, sleeves, plates, etc.)
Maintain/increase printing speed
Epsilon carries out studies, designs and calculations in-house through to its technical office.
The control and measurement methods used by Epsilon have been specifically developed and adapted to our products (natural frequency measurement and numerical correlation, bending bench, etc.)

The carbon tube: at the heart of the system
Epsilon selects only high and very high modulus carbon fibers and high quality epoxy resins.
The "K1" process, patented by Epsilon Composite, is a unique combination of excellent pultrusion and filament winding that allows the industrial production of small and large series of tubes whose performance (stiffness) can be customised.
Learn more about K1 technology
Clamping on mobile shaft: pneumatic; hydraulic
The Epsilon pneumatic and hydraulic adapters benefit from a common "bridge" architecture and K1 carbon tubes, giving them excellent dynamic behaviour.
Hydraulic clamping is, however, stiffer than pneumatic clamping.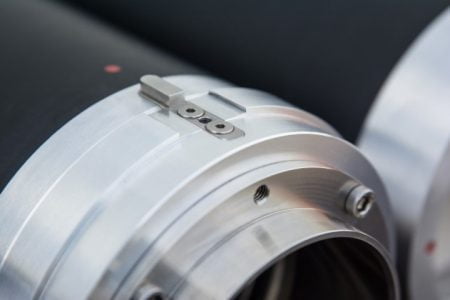 Key Features – Pneumatic adapters
Ø CARRIER SHAFT
Defined by the customer
INDEXATION ADAPTOR/CARRIER SHAFT
Removable bayonet support
Other systems on request
DIMENSIONS
STORK. >> 1280mm
Printing width. >> 2050mm
Other dimensions on request
CONDUCTIVITY
Complies with the provisions of ATEX 95
AIR POWER SUPPLY SYSTEM
Direct (through the shaft on the operator side)
Separated (machine side)
Double direct & separated system
Other systems on request
OPERATING TEMPERATURE
Up to 60°C
ASSEMBLY SLEEVE
Ball air nozzles
Number and position of nozzles can be modified on request
MAINTENANCE
Resistant to conventional solvents used in flexo printing
Recommended cleaning with isopropyl alcohol
INDEXATION SLEEVE/ADAPTER
Removable key
Other systems on request
STORAGE/ TRANSPORT
Recommended storage in vertical position
Protect the adapters from impacts
Transport the adapters in the box and on the original supports
Key Features – Hydraulic adapters
CARRIER SHAFT Ø.
Defined by the customer
Guide in the adapter >> glass fiber or carbon fiber tube depending on the dimensions of the adapter
INDEXATION ADAPTOR/CARRIER SHAFT
Straight groove
Other systems on request
DIMENSIONS
STORK: up to 1900mm
Printing width: up to 2800mm
Other dimensions on request
CONDUCTIVITY
Complies with the provisions of ATEX 95
AIR POWER SUPPLY SYSTEM
Direct Other systems on request
OPERATING TEMPERATURE
Up to 60°C
ASSEMBLY SLEEVE
Ball air nozzles
Number and position of nozzles can be modified on request
MAINTENANCE
Resistant to conventional solvents used in flexo printing. Cleaning with isopropyl alcohol is recommended
INDEXATION SLEEVE/ ADAPTER
Removable cylindrical pin
Removable key
Other systems on request
STORAGE/ TRANSPORT
Recommended storage in vertical position
Protect the adapters from impacts
Transport the adapters in the box and on the original supports