Design and manufacturing of lightweight and stiff machine beams made of carbon fiber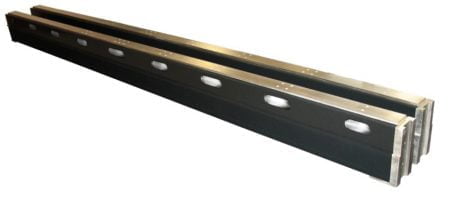 Carbon composite machine beams
To improve productivity (machine efficiency and precision), some large machine manufacturers have decided to integrate carbon composite.
In general, this composite is located on mobile beams, which results in improvements in lightness, stiffness and ability to absorb vibrations.
Examples: fabric cutting machine, control machine, gantries, etc.
Epsilon Composite has been one of the world's leading suppliers of carbon fiber beams for over 20 years, providing both carbon fiber blanks (raw or machined) and finished beams (including end fittings, metallic components, and surface coatings).
Carbon fiber machine beams: design & manufacturing
Our engineering department can assist you in defining your needs and designing a solution that integrates seamlessly into your machine, whether it's for a new model or for improving an existing machine.
Carbon fiber machine beams: manufacturing technologies
We have developed innovative and high-performance technologies to meet our customers' needs, covering all types of beams in small, medium, or large series up to 12m in length and without any section limits.
These include beams made from profiles manufactured by pultrusion, which is an ideal solution for achieving high mechanical performance and optimized costs within the allowable range of section sizes for the pultrusion process.
Designing and manufacturing machine beams that are lightweight and stiff using carbon fiber is our specialty. We integrate our pultruded carbon profiles into complementary manufacturing processes, such as filament winding (K1 process), RTM, infusion, or pre-impregnated draping, to maximize the benefits of high mechanical performance while maintaining the flexibility of traditional processes. This allows us to meet the needs of small to medium series production without any geometric limitations.
In addition, some manufacturers choose to use a lattice structure, which has led us to develop suitable solutions based on carbon tube or rod assemblies.
Our pultruded profiles allow for reduced manufacturing costs and superior stiffness in comparison to traditional composite solutions, regardless of the manufacturing technology utilized. Additionally, when standard profiles are used, tooling costs and manufacturing lead times are also reduced in comparison to custom profile production.