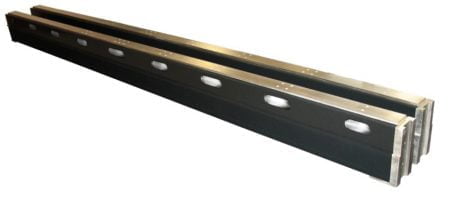 Carbon composite machine beams
To improve productivity (machine efficiency and precision), some large machine manufacturers have decided to integrate carbon composite.
In general, this composite is located on mobile beams, which results in improvements in lightness, stiffness and ability to absorb vibrations.
Examples: fabric cutting machine, control machine, gantries, etc.
Epsilon has developed innovative and high-performance solutions by integrating high-performance pultruded carbon profiles into so-called "classic" manufacturing processes such as RTM, infusion or draping of prepregs.
The combination of these manufacturing processes makes it possible to take advantage of the high mechanical performance offered by pultrusion along with the flexibility of more traditional processes, in order to meet the needs of small or medium series of parts.
The use of standard pultruded profiles from our stock also allows us to minimise both costs and the time required for manufacturing.